Communications Management | By Brad Egeland | Read time minutes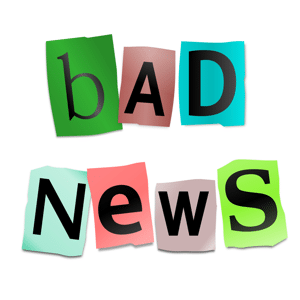 As I think back to some treacherous experiences in my project management career, I'm reminded of the huge difference between giving good news and bad news to the project client.
It's so easy to pick up the phone to say the project is rolled out successfully, on time, on budget or that the latest deliverable is coming a week early and it's ready for review.
It's so much harder to wrap your head around how to break bad news - really bad or embarrassing news - to the project client.
That takes thought, strategy, perhaps some soul searching, and maybe some praying that a couple of the project team members would like to be there when you break the news. You know - to catch you when you get knocked down or to call for help fast.
One time I had to tell a client that our company was shutting down due to fraud. Not easy. On another project, I had to tell a client we were going to go $300k over budget if we kept going on the project (I was asked by my PMO director to not share this news earlier to the client…for what logical reason, I don't know).
Sharing this kind of news is not fun. It takes thought, preparation, courage, and a helmet to go to your project customer and share this type of information.
Let's consider what we can do to best prepare for, and then effectively deliver, the very bad news we sometimes have to relay on our projects:
Analyse the Situation
As the PM, check the landscape. How bad or how big is the issue? Get your best gauge of the situation before gathering the team. This isn't a weeklong or daylong process. It's a 10-minute one.
Gather the Team
Next, gather the team to discuss and assess. Again, this is not days or even hours. You need to not cause much of a delay before going to your senior management and ultimately to the customer. Discuss what you've assessed. Gain your team's insight. Brainstorm on the issue, the causes behind the issue and one, two or three possible courses for resolution.
Advise Senior Management
Next, advise your senior management of the situation and your potential resolution options. Depending on your comfort level, the hopelessness of the situation and the structure of your organisation, you may need to move this step up higher in the process. But it has to happen, of course. You may even need senior management involved in relaying the information and plan to the client.
Devise a Plan and Present It to the Client
Next up, consider the options for resolution (or at least mitigation) that you - as a team - came up with back in the 2nd step of this process. What has the best chance of working? What conforms most to your customer's needs and direction?
You'll likely want to be prepared to present a couple of options to the customer - assuming there are viable options. In the first scenario above, I really had no option. When your company completely collapses, there isn't much you can offer. They offered me a job, but I decided not to go that route.
In the second scenario, I came up with ideas on how we could get back on track, but it still involved about $285,000 worth of work, which essentially put the entire project on hold for an extended period of time while funding was discussed.
Hopefully, your scenario will be less hopeless.
The final step, of course, is for you to present the options to the client and hope for the best - meaning you hope you're given a chance to resolve what is wrong rather than the client just pulling the plug on the entire engagement.
What About You?
How do you handle relaying the very bad news? Do you tell the customer immediately? Assess for a day with team and management? And who gives the news - you? PMO Director? CEO?
Share your experiences on projects that went all wrong and how you dealt with it and dealt with the customer.