Tools | By Duncan Haughey | Read time minutes
A Gantt chart, Logic Network, PERT chart, Product Breakdown Structure and Work Breakdown Structure are standard tools used in project planning. What follows is a short definition for each.
Gantt Chart
A Gantt chart is a well-known and commonly used project management bar chart that tracks tasks across time. When first developed by Henry Gantt in 1917, the Gantt chart did not show the relationships between tasks. Since then, tracking time and interdependencies between tasks have become common and is now in everyday use.
Since their first introduction, Gantt charts have become an industry standard. They are an essential project management tool used for showing the phases, tasks, milestones and resources needed as part of a project. They provide an excellent visual display of the entire project.
One of the Gantt charts first uses happened on America's Hoover Dam project started in 1931.
In the diagram below, we see these elements:
Event Group: a logical grouping of tasks that form a single-phase or stage.
Estimated Time: the amount of time in days, weeks or months we expect a task or activity to take.
Key Milestone: completion of a key phase or stage.
Task Relationship: the relationships and dependencies between the tasks show when each task is due to begin and end.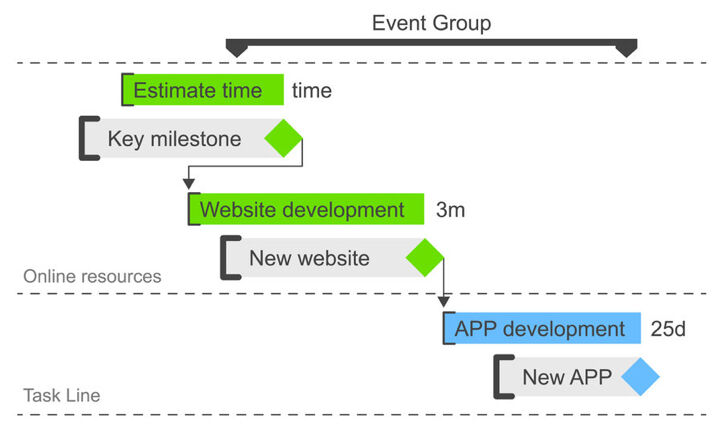 Logic Network
A Logic Network indicates the sequence of activities in a project over time. It shows which activity logically precedes or follows another activity. You can add the time each activity will take to calculate the project duration. Project managers can use this tool to identify the milestones and critical path of a project. It will help you understand the dependencies in your project, timescale, and workflow. Using this technique can reveal valuable information that you may otherwise overlook.
In the diagram below, we see these elements:
Activity Logic: the logical relationship between activities.
Activity Sequence: the order in which you must schedule the activities.

PERT Chart
The Program Evaluation and Review Technique, commonly abbreviated to PERT, is a model for project management developed by the United States Department of Defense's US Navy Special Projects Office in 1958 as part of the Polaris mobile submarine-launched ballistic missile project.
PERT is a method for analysing the tasks involved in completing a given project, especially the time needed to complete each task and identifying the minimum time required to complete the total project.
In the diagram below, we see these elements:
Event: An event that is a point at which an activity starts or ends.
Activity: Refers to the actions taken or the task to be accomplished as a part of the whole project execution process, including the time in hours, days, weeks or months.
Critical Path: This path passes through all the essential activities carried out in a sequence and links the first event to the last event.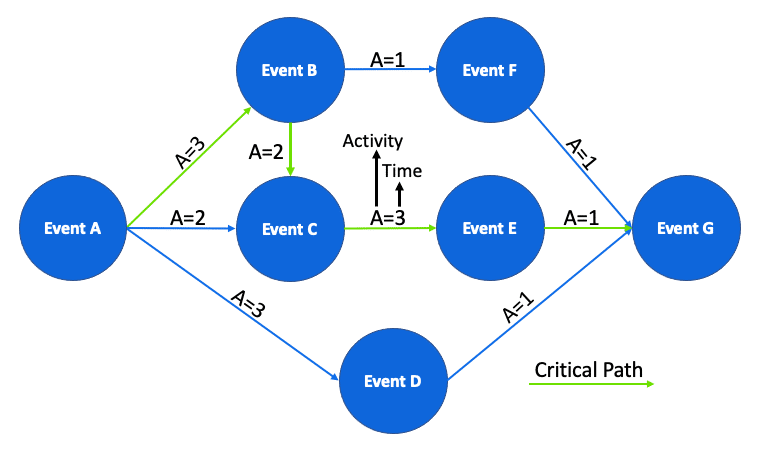 Product Breakdown Structure (PBS)
In project management, a Product Breakdown Structure (PBS) is an exhaustive, hierarchical tree structure of components that make up a project deliverable, arranged in a whole-part relationship.
The PRINCE2 project management method suggests using product-based planning, part of which is developing a Product Breakdown Structure showing the major products to be developed in a plan.
A Product Breakdown Structure helps to clarify what is to be delivered by the project and can contribute to building a Work Breakdown Structure.
In the diagram below, we see these elements:
Product that is the final output of the project.
Product groups that are brought together form the entire product.
Product elements that together form a whole product group.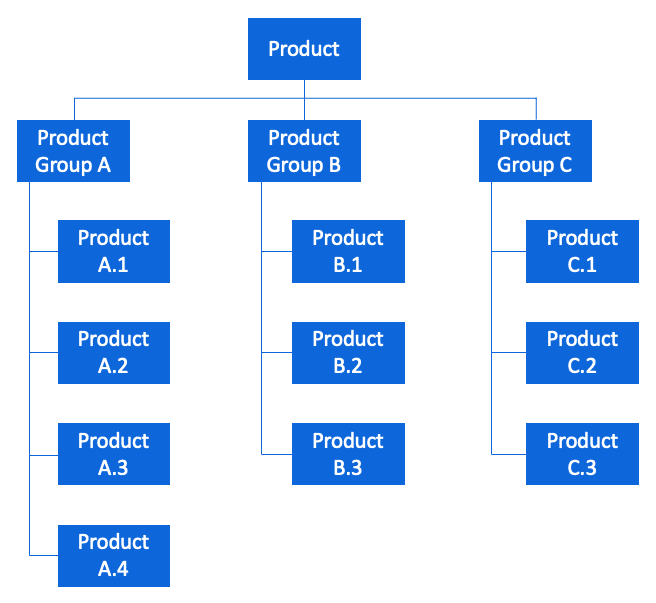 Work Breakdown Structure (WBS)
The United States Department of Defense (DOD) created the Work Breakdown Structure concept in 1962 as part of the Polaris mobile submarine-launched ballistic missile project.
A Work Breakdown Structure is a hierarchical decomposition of the deliverables needed to complete a project. It breaks the deliverables into manageable work packages that are scheduled, has people assigned, and costs applied.
A Work Breakdown Structure is a standard project management tool and the basis for much project planning.
In the diagram below, we see these elements:
Phases or deliverables that are needed to complete the entire project.
Work packages that are needed to complete each project phase or deliverable.
Activities needed to complete each work package and can be assigned to appropriate team members.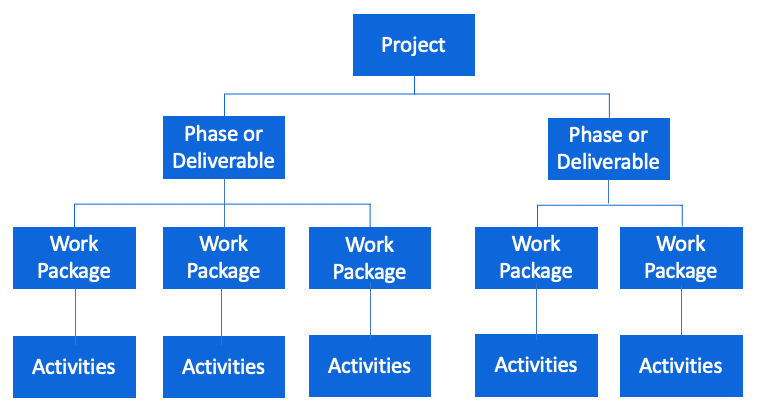 Most project managers will use one or more of these tools depending on the size and importance of a project. Use these tools to increase your chances of success and keep track of progress to obtain the best project result.
---
Recommended read: 5 Free Tools for More Effective Project Management by Duncan Haughey