Role of the Project Manager | By Brad Egeland | Read time minutes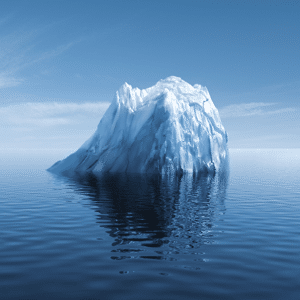 No matter how hard we try, no matter how well prepared we are, there are still "icebergs" out there waiting to sink our projects. All the planning, all the risk management, and all the issue tracking won't make all of these avoidable or make all of them disappear. The key is to always be observant, always be prepared, and take nothing for granted. Whether it's been going smoothly in your project or you've been hitting turbulence, there can always be something coming around the corner that you will need to react to.
What I want to discuss are ten key project issues that I've encountered, either personally or by observing colleagues' projects. These can be anticipated and managed (to some degree) as long as we are at least somewhat aware. It's when we move forward with blinders on that we get in the most trouble.
In Part 1 of this three-part series, let's consider the first four on my list of ten issues:
#1: Project Goals Are Poorly Defined
A top project manager's responsibility - with the help of the project team and customer - is to ensure that the goals of the project are clearly and specifically spelled out. You may find yourself pushing hard for the definition of the project, but it must happen, especially since the person making the assignment often does not know what he or she wants at the very beginning of the engagement. However, don't proceed until you find out, don't hesitate to push back, and start the project only after these goals are defined. Otherwise, your success will be a matter of luck, not of skill or experience.
#2: Your Project Team Is Not Cohesive
When you struggle to create a team and don't succeed, first examine your management style. Do you truly offer team members an opportunity to participate? Or do you discourage them from speaking out, offering ideas, or suggesting changes? Teams work only when you encourage participation and then follow up on it.
The problem may also be caused by excessive diversity in the team. If you have the chance to pick your own team, which I realise is rare, at least from my experience--try to limit as much as you can the involvement of a large number of other departments. Projects often demand help from people other than those you supervise directly, but it is not always necessary to strive for participation beyond those resources you absolutely need. Plus, keeping your team lean can help keep the budget under control.
#3: You Are Getting Pushback From Managers Whose Employees Are Assigned to Your Team
You may at times face a formidable task just in getting co-operation from other department managers, no matter how diplomatically you approach them or how well you define and explain the project. It's common for department managers to want to hold on tightly to their best resources, the very ones you need badly in order to realise success in your projects (for the good of the organisation you both work in, of course). To solve this problem, you will need to convince the other managers that their priorities will be respected.
#4: Your Projects Are Missing Deadlines and Finishing Late
You may have an excellent process for schedule control, and team members are working well together. But in spite of that, you simply don't meet phase deadlines, and projects aren't completed on time. Frustration is setting in fast.
What do you do? One option is to begin allowing more time or increase the size of your team. It may be that your schedule is not realistic and tasks and phases cannot be completed in the time frame allotted in the schedule. You may have been forced to accelerate your schedule because management has imposed an early deadline. When you first organise your schedule, the realistic completion time will be dictated by the scope of the job. If the final deadline is unrealistic, then it is critical for you to push back to management or the customer to explain why there is a problem and ask for a later deadline or a larger project team.
In Part 2, we look at a few more of my ten key project issues to recognise and avoid while managing various engagements.