The Project Management Maturity Matrix
Project Portfolio Management | By Duncan Haughey | Read time minutes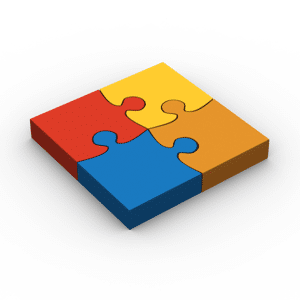 Project-based organisations have become more familiar, meaning they split work into programmes of projects designed to deliver their organisational strategy. Good management of these projects is essential to success.
Equally crucial to individual project success is ensuring they carry out the right projects. As project management author Bob Buttrick says in his book The Project Workout, Directing the individual project correctly will ensure it is done right. Directing all the projects successfully will ensure we are doing the right projects.
Organisations have varying levels of expertise in the project management function. Many of these organisations realise that a better approach to project management is needed to be successful. As a result, methodologies such as PRINCE2 have become popular, but this is just the first step. World-class project management requires much more.
The Project Management Maturity Matrix can help organisations improve their project management function. It is similar to the Capability Maturity Matrix used in software development. It helps organisations improve the maturity of their project management function along an evolutionary path, from ad hoc and disorganised processes to a mature, disciplined approach.
What is the Project Management Maturity Matrix?
The matrix describes four levels of maturity in project management:
Level 1: Delivery of projects through the personal heroics and effort of the project manager and their team. Delivery occurs despite the organisation rather than because of it.
Level 2: Anybody can deliver, not just heroes. An agreed-upon methodology helps repeat earlier successes on similar projects—courses and training help at this level.
Level 3: This is not only about delivering projects but also realising benefits. It involves knowing what the expected benefits are and when achieved.
Level 4: This is about whether we are doing the right projects and how those projects deliver the business strategy.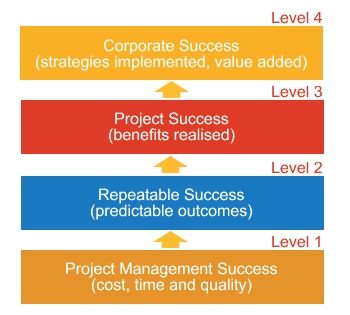 For organisations to understand the level they are performing at, it is helpful to ask these questions:
Level 1: Project Management Success (cost, time and quality)
Did our project produce the desired output?
Level 2: Repeatable Success (predictable outcomes)
Do our projects consistently produce the desired outputs?
Level 3: Project Success (benefits realised)
Do the project outputs produce the desired outcomes?
Level 4: Corporate Success (strategies implemented, value added)
Do the outcomes produce or have the intended impact on the business strategy?
Moving from one level to another requires organisations to develop processes in several areas:
A methodology is needed to move from Level 1 to 2.
Benefits management is necessary to move from Level 2 to 3.
Project portfolio management is necessary to move from Level 3 to 4.
The critical process area at Level 2 involves introducing a project management methodology. It might be an in-house developed method or something from the public domain, such as PRINCE2. The critical point is that all project managers have a framework to work with, and the organisation has effective support structures. Once this is in place, there is less reliance on personal heroics and more emphasis on repeatable and measurable success.
The critical process area at Level 3 focuses on benefits management. As surprising as it may seem, many organisations do not look at whether projects have delivered the benefits envisaged at the start. Success is only measured by whether projects have been delivered against cost, time, scope and quality criteria. As benefits are not usually realised immediately at the end of projects, it is necessary to revisit projects after a short period to see whether the benefits have accrued. If not, the organisation should identify why and identify any actions required to realise the benefits.
The critical process area at Level 4 covers managing portfolios of projects to ensure they collectively deliver the organisation's strategy. Project portfolio management is about carrying out the right projects. A balanced portfolio is created by addressing all areas of business development and making the best use of resources. Processes need to be in place for two reasons:
All new project ideas get proposed, reviewed and approved.
Decisions get made about whether a project contributes to the overall strategy of the organisation.
Each key process area contributes to an improvement in the organisation's project management capability, enabling goal attainment.
Where is your organisation on the Project Management Maturity Matrix?
---
Recommended read: The Point and Pitfalls in Portfolio Management by Jonathan Ward, Michal Karshen and Erik Eisenman.