Earned Value Management | By Ruth Mullany | Read time minutes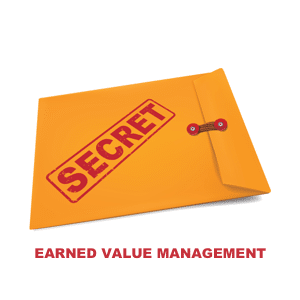 Earned Value (EV) is a management tool for tracking and communicating a project's status. Earned Value Management (EVM) will let you know the actual state of the project by comparing your current project performance against your plan. Knowing the project's performance will let you take actions needed to ensure that the project is completed on time and within budget. Like any tool, in order for EVM to be successful, it very important that it is used correctly. After 20 years of managing projects using EVM, I have found that using Earned Value to manage your project doesn't automatically guarantee success. In fact, using it incorrectly can even be more harm than good. The good news is that I'm going to give you the secrets to the proper usage of EVM that will guarantee your projects' success.
Secret #1: Project Managers Use Earned Value Management as an Integral Part of Managing the Project
EVM is an excellent tool, but if it isn't utilised, or is used irregularly, then it does not benefit the project. In many companies financial personnel are responsible for implementing EVM. However, though EVM utilises financial information, it is a project management tool. As the leader of the project, it is imperative that the Project Manager understands how the data is calculated, where the numbers come from, and what events lead to the current state of the project. That way, the information can be interpreted correctly and actions can be taken to ensure project success.
Secret #2: Ensure the Proper Usage of Earned Value Methodology on Each Task
Using the right tool for the right job is important. In EVM, this means using the correct Earned Value Methods for each task. Earned Value Method is a way of taking credit for the work done on a task. Different methods are better suited for different types of tasks; using the correct one will increase the accuracy of the project's status. Using incorrect methods will not only lead to inaccuracy, but can be seriously detrimental to the project. It may inaccurately give you more credit for work that was actually not completed and, by the time you realised the shortfall, it may be too late to take corrective action. On the other hand, by taking too little deserved credit you may end up spending needless resources to correct a problem that does not actually exist.
Secret #3: Ensure Open and Honest Earned Value Status Reporting
Project status and Earned Value information is reported by tasks managers and Cost Account Managers (CAMs), and that is why it is important that the Project Manager maintain a safe environment in which they can report the true accomplishments. It is human nature to want to look one's best to a supervisor, so if the project culture makes it difficult to report the true state, especially when there is a problem, the tendency will be to delay reporting the bad news. This will only compound the problems and make it more difficult to make course corrections. In conclusion, to assure the success of EVM, you must see to it that the Project Manager not only has a firm knowledge and experience in EVM, but believes in EVM and uses it as one of his most valuable tools. The EVM team, including Tasks Managers and Cost Account Managers, should be trained in Earned Value Methodologies and their proper applications. Remembering that EVM is an excellent tool for tracking and communicating project status, Management should take the necessary steps to create a reporting environment that will nurture the open and honest reporting necessary to ensure any timely course corrections required to bring the project to completion on-time and within budget.
---
Ruth Mullany is a project management professional and a consultant concentrating on Programme, Project and Earned Value Management and the author of "EVM Demystified."
Now available, "EVM Demystified," a quick and easy-to-understand book on Earned Value Management that not only explains the concept of Earned Value Management, but goes into the different Earned Value Methods, sample Scenarios and common mistakes. To read the first chapter and purchase a copy of the book, visit www.evm4pm.com
---
Recommended read: Earned Value Management in a Nutshell by Duncan Haughey.