Time Management | By Meggie Nahabedian | Read time minutes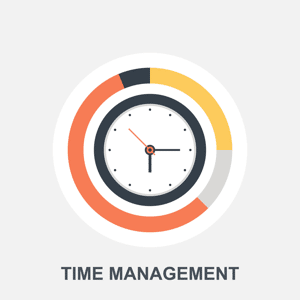 Time flies – always. That makes time a variable that can be hard to control and monitor. And once time has slipped away, you never get it back. For companies, time lost equals dollars lost.
In a business environment where employees and skilled professionals are hired based on their input and productivity at a set time, it's a great time to teach them time management skills. Why? They'll not only keep better track of time but also have the opportunity to track their progress in projects and contribute to the company's success.
Being conscious of time will result in self-improvement and goal achievement. That's true in both your work and personal life. What's the best way to manage time effectively? Applying these 10 tips is a good start.
1. Have a Time Check
Know exactly how you spend your time. In an office setting, you should know the tasks that are stealing your time. Then you can do something about it. For example, you may be spending an hour on email instead of completing important projects. Knowing exactly where your time is going can help you make decisions about delegating tasks or buying software to speed up some lower-level processes.
2. Set a Time Limit
Setting a time limit for a task can be fun. In fact, it can be like a game. Some companies actually divide employees into groups, and the group that finishes a project or task first gets a reward. You can apply this principle to any task. Set a definite time limit, such as an hour or two. Then try to finish the task within the allotted time, and feel the excitement as you do it.
3. Use Software Tools for Time Management
Technology is more sophisticated at managing time. Various apps even help track employees' time so that you can monitor their check-ins and check-outs. The internet offers a variety of apps and tools, and some are useful for business management, especially for monitoring and assessing daily processes. For many apps, the advanced functions of the paid versions can also give you added control and better user experience.
4. Have a To-Do List
Having a list is always a time saver. If you have a list, you'll never have to wonder what's on the daily agenda or what to do next. Indeed, a list keeps you focused and motivated, focused on feeling that sweet satisfaction every time you tick off a task from your list. Lists also let you see – and monitor – your progress. Even if you're surrounded by distractions, your list will keep you on the right track.
5. Plan Ahead
Planning ahead is a critical part of time management. Ideally, you should plan ahead for the week or at least the day before. When you know exactly what needs to get done for the day or week, you'll stay organised and focused. You can break tasks across days to see, in advance, how much time is needed to complete a project. Even spending just a few minutes planning ahead can transform how you work.
6. Start with Your Most Important Tasks
Do your most important tasks in the morning. All those stressful tasks, the big bulk of your work, the hardest tasks – do them in the morning. The reason is simple. You have the most energy in the morning, so you will be able to tackle the tasks efficiently and competently. Plus, the feeling of accomplishment at getting the most important stuff done first will make the rest of the day that much better.
7. Delegate and Outsource
You can't do everything by yourself, so cut yourself some slack and delegate. Maybe it's time for you to train someone to do some simple processes in your work or office. That frees you up to focus on the bigger projects or the more complicated tasks. You can even outsource the work to an experienced freelancer and save money.
8. Focus on One Task at a Time
If you have chosen to do a task, see it through to the end – finish it. Avoid doing half work, which means abandoning your current task and doing something else entirely. One example of half-work is writing a report then suddenly checking your email for no reason and writing replies. That's not only bad time management but also bad for your concentration. You'll lose your momentum. Focus on the task at hand, and avoid these pitfalls.
9. Make Some Changes in Your Schedule
If you feel more energised at certain times of the day, change your schedule to embrace that. Make the most of your time. Some people are more energised in the morning, while some are night owls. When you choose the best time schedule for you, you'll enjoy the benefits of being able to do more.
10. Avoid Perfection
Don't let the perfect be the enemy of the good, as they say. Avoid overanalysing everything you do. That doesn't mean be careless, however. Do your best – always. But perfection can drag you down, so don't think about it. Once you've finished a task and given it your best, you have to move on.
Effective time management is ultimately a result of having the right attitude and commitment to your goals. Software tools can help aid in your time management efforts, and there are plenty of calendars and time-tracking devices available to help you manage time effectively.
Whatever tips or tools you use, use your time wisely, but also make time for rest and relaxation to keep you happy and motivated all throughout your life.
What tips and tricks do you use to better manage your time or your team?
Do you want to manage your time more effectively to get the job done? Check out Productivity Hacks When Working From Home.
---
Meggie is a writer, social media and content marketing manager who works with AMGtime. She has been interested in marketing and management since she was young and wants to share her creative ideas, and unusual approach to marketing with others. Meggie is deeply convinced that marketing is everything and it's a crucial part of our life. She regularly delivers concepts on how to market products, services and events, how to manage time, employees and more.