Team Building | By Summer Wilde | Read time minutes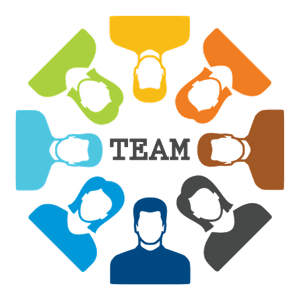 If you're like most project managers, you know cooperation will promote productivity and works well for various teams. Cooperation ultimately means good teamwork, which allows you to smoothly run different projects and helps the pros on project teams overcome obstacles and achieve objectives. Good teamwork also leads to less time being required for completing projects and to better-managed resources. Not to mention, high-quality teamwork will help improve and save project results and potentially lead to greater profits.
When you get the right people on board and foster the right atmosphere for effective teamwork, you and your team can enjoy the following six advantages.
1. Promote creativity: When people are working together, you can create a better environment for promoting creativity. And that happens naturally when several ideas are brainstormed and shared. In the process, you may even learn some more effective strategies for completing a project. Encourage all team members to contribute to the project by sharing unique ideas. Rest assured that, in most cases, there's plenty of knowledge that can be shared among team members. You need to both promote creativity and use the knowledge that emerges as a result.
2. Encourage risk-taking: Working in a team environment naturally promotes risk-taking. Anyone would be inclined to take fewer risks when shouldering all the responsibility due to professional and personal consequences. But on a team, everyone has the support of other team members in case things break down. Keep in mind that high-quality risk management allows you, as a project manager, to mitigate the project risks as well. You can assess the impact of the action on a project before taking it.
3. Hire employer of records services: There are several benefits of using employer of records (EOR) services. To start, you can outsource certain tasks, such as managing payroll and benefits. You also gain additional time for operating the business since the EOR can assume responsibility for all staff and complete HR functions. When you're working with a Professional Employer Organisation (PEO), the EOR will maintain the contract for entering into a service agreement.
4. Promote diversification: Remember, complementary strengths are a source of multiplication in teamwork. One member might be well-organised, and another member of the team might have a talent for coordination and creating. Such diversification generally leads to a successful project outcome since you're bringing together different strengths to use them to their maximum potential. All team members bring unique skills to the table. Although a diverse team may struggle more than other teams that think more uniformly, diversification is always preferable. Different opinions mean you get to hear different ideas and learn more – and that may mean more opportunities in the future.
5. Raise accountability: There are some days when someone may not be willing to give it all, especially while working alone. In general, people will feel more responsible when serving as a team member working on a project. This increased sense of responsibility is due to informal pressure from colleagues and the pressure not to let other team members down. After all, no one wants to disappoint other respected team members. This raised accountability applies to not only the team members but also all project personnel.
6. Foster project momentum: It's no wonder that teamwork accelerates all aspects of a project. When people try to work solo, they simply cannot get through everything a team could. But when the right team members are in place, everyone on the team can fly. Some deadlines that appear daunting can become possible with the right people and the right attitudes. Plus, any additional time saved can be utilised for doing things properly and for activities that will aid career development. For example, you and your team could use the extra time for professional development.
Conclusion
On any project, complex problems can potentially emerge during project execution. But the advantages of fostering an effective team will be invaluable for the completion of the project, regardless of whatever project problems arise. As a project manager, then, you need to understand teamwork to get the best out of your team on any project. But more importantly, you need to understand how to build effective teams so that you and your team can complete assignments quickly and effectively – on every project.
---
Recommended read: How to Build a High-Performance Project Team by Duncan Haughey.