Stakeholder Management | By Duncan Haughey | Read time minutes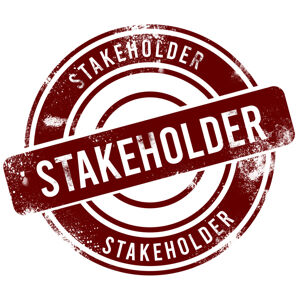 Running a successful project requires a high degree of stakeholder management. But who exactly are your stakeholders?
Simply put, a stakeholder is anyone who has an interest in your project or who will be affected by its deliverables or output. Managing stakeholders effectively requires you to not only understand the values and issues that stakeholders must address but also keep all stakeholders on board for the project's duration.
In fact, insufficient involvement of stakeholders and infrequent communication with sponsors have long been leading causes of project failure, according to a January 1996 paper titled Project Management Skills: Avoiding Management by Crisis from the Gartner Group. While those findings first emerged decades ago, the findings remain more relevant than ever.
Not sure where to start with examining your own stakeholder management and finding ways to improve? Below are a few ideas that may help ensure you're on the path to project success.
Identify Stakeholders
First, identifying the stakeholders in your project, commonly known as stakeholder analysis, is a crucial step in ensuring project success. Determining the stakeholders of your project, particularly those impacted indirectly, is not always easy, however.
Start by prioritising your stakeholders based on their influence on the project. Think about whether they are likely to be strong supporters of your project. Could they block it? How important is it that they are happy with the project outcome? A tried and tested way to understand the interest level of each stakeholder group is to create a Power-Interest Grid. Place each stakeholder group on the grid based on their power/interest level, and then manage them accordingly. Figure 1 below illustrates an example Power-Interest Grid for stakeholder management.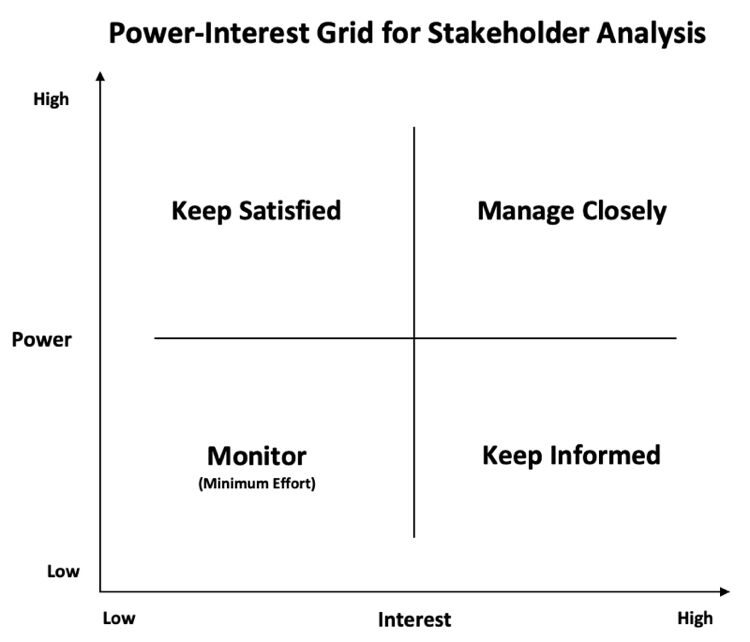 Where stakeholders fall within your Power-Interest Grid shows what actions you need to take with various stakeholders:
High-power and high-interest people should be closely managed. You must fully engage these stakeholders and make your most significant efforts to satisfy them.
High-power and low-interest people should be kept satisfied. Spend enough time with these stakeholders to satisfy them, but not so much that you begin to irritate them.
Low-power and high-interest people should be kept informed. Inform these stakeholders, keeping them up to date, and regularly talk to them to ensure no significant issues arise.
Low-power and low-interest people should be monitored. Watch these stakeholders with minimum effort, and don't over-communicate.
Once you identify your stakeholders and their influence on your project, the next step is to determine their needs and concerns. Conducting stakeholder interviews is the best way to make such determinations. During the interviews, take time to draw out the requirements that create tangible benefits.
Set Goals and Objectives
During the stakeholder interviews, create a set of realistic goals and objectives. Stakeholders are most likely to actively involve themselves in project goals and objectives that improve business performance. A key point to remember is this: stakeholders are not always keen to actively participate, but engaging them at this early stage of the project will help ensure success—for both your stakeholder management and the project itself.
Agree on Deliverables
Projects need a clear set of deliverables designed to achieve the project goals and objectives. As the project manager, you should communicate these clearly to the stakeholders and ensure a clear understanding regarding the quality and composition of each deliverable. Prototypes and samples can be prepared to achieve this understanding and avoid misunderstandings or disappointment later.
Communicate Progress
Once goals, objectives and deliverables are set, communicating progress is crucial to stakeholder management. Once the project is running, there are two groups of people who you should keep informed of progress: the project team and the stakeholders. The most efficient way to communicate progress is via regular status reports. These reports provide a valuable record of the project and can be emailed to all relevant parties or placed in a central repository to which everyone has access. Then make sure you're communicating progress for the duration of the project.
Wrap Up
In stakeholder management, relationships are crucial and result in increased trust. Where there is trust, people work together more effectively. An investment in stakeholder management—in building relationships and trust—is an investment in the success of your project.
Your stakeholders, particularly those in the top right quadrant of your Power Interest Grid, are the most critical people on your project—they're core to your success.
The bottom line? Consult with your stakeholders early and often to keep them "on board" and to avoid any nasty surprises or misunderstandings.
What tips do you have for managing stakeholders? Let us know in the forums.
---
Recommended read: Managing Stakeholders: Going Beyond Conventional Wisdom by Omar Muhammad & Abid Mustafa.