SMART Goals | By Jeff Herring | Read time minutes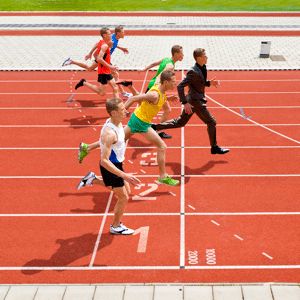 1. Successful Goals Are Clear
In the absence of clearly defined goals, we become strangely loyal to performing daily acts of trivia - Author Unknown. Get very clear about your goals. It helps you avoid the 'Rinse and Repeat Trap' - get up in the morning, go to work, come home, eat dinner, watch TV, fall asleep in front of the TV, stumble to bed, get up the next morning, rinse and repeat.
2. Successful Goals Are Written Down
No matter how strong your memory, it's still not as strong as the weakest link. Putting your goals in writing and in a place where you read them often dramatically increases your chances for success. We can get so caught up in living day-to-day that we forget our goals. Seeing them often will remind you where you want to go.
3. Successful Goals Are Compelling
We need goals that excite us about the outcome we desire and the process of getting there. It ought to be fun. If you can't bring a passion to your goals, you may want to change your goals.
4. Successful Goals Require Immediate Action
Taking immediate action helps build excitement and momentum. Once you set a goal you must do one of two things - either don't leave the place where you set the goal without taking an action toward completing the goal or don't go to bed that night without taking some kind of action. Make a phone call, create a plan, do your research, whatever needs to happen to get you started.
5. Successful Goals Have an Action Plan
You need an action plan, a map. How are you going to get there? What's the first step, the second, and then the next and the next? The most common cause of failed goals is lack of a plan. Ask others "How would you go about achieving this goal?" Find someone who has already created a map to get there and adapt it for you own life.
6. Successful Goals Are Specific
When do you want it? How much of it do you want? How long do you want it? How will you and others know when you get there? What will be different? And my favourite question; what will you be able to do once you reach your goal that you can't do now?
7. Successful Goals Are Accountable
Committing your goals into writing holds you accountable to yourself. Telling someone else about your goals allows someone else to help hold you accountable. We all need someone who will hold our hand to guide us along and someone who will hold our feet to the fire when we begin to think about giving up.
8. Successful Goals Require Work
Richard Bach, author of Jonathan Livingston Seagull, said There is no such thing as a wish without the power to make it come true. You may have to work for it, however. Goals require work. So do many things worth doing.
9. Successful Goals Require CPR
You want to be Consistent, Persistent and Resistant. Consistent in your efforts each day. Persistent to keep going when it gets tough. Resistant to both the desire to give up and to those who might say you cannot do it.
10. Successful Goals Require Celebration!
No matter how small or how big the goal, celebrate when you are successful. You worked hard, you deserve it and it's fun. Celebration reinforces all your efforts and builds momentum for the next goals.
---
Recommended read: How to Drive Project Success Using SMART Goals by Duncan Haughey.