Recommended Reads | By Joseph Phillips | Read time minutes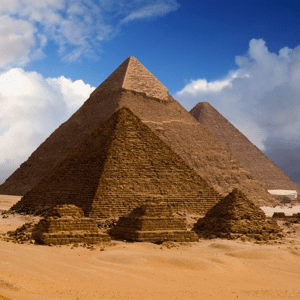 All projects are really about change. Let's take my favourite project of all time: the pyramids of Egypt. Imagine a sweltering desert with miles of sand, snakes, and other scenes from an Indiana Jones film. Add a few million workers, some great plans, some scary mummies, and you've got the pyramids. All right, so my history is a little skewed, but I think you see my point. First it was nothing; then, after some planning and execution, there were the pyramids.
What approach to project management do you think the pharaohs used? Does it matter? I don't think so.
Project Management is Project Management
Erik Larson's book The Devil in the White City: Murder, Magic, and Madness at the Fair That Changed America (Crown Publishers, 2003) is an incredible read about Chicago playing host to the 1893 World Columbian Exposition, also known as the Chicago World's Fair, and the story of a creepy murderer living in the Chicago at the same time.
The project management victories and failures within the World's Fair were incredible: debate over where the fair should take place, visions of what the fair should offer, uncompromising landscape details, and (my favourite project) the creation of the Ferris Wheel.
The book says nothing about what project management approach the organisers of the fair preferred. Does it matter? I don't think so. That's my real point. Does it really matter what approach we take to project management?
In software project management, a few flavours have popped on and off the project management radar for the past few years, Scrum and extreme programming being two of the juiciest, in addition to other models such as Lean Manufacturing, Six Sigma, and even rolling wave planning.
But here's what I think: project management is project management. I don't think it matters what approach you take to complete your projects, as long as you complete your projects.
We could argue over the virtues and positive attributes of all the different project management approaches and go at each other like fans of the Chicago Bears and the Green Bay Packers. But really, does it matter at all?
Again, I say no.
I don't care what you like. I don't care what project management approach you say is the best. I don't care what you think of my approach to project management. I only care that you use whatever approach gets the job done.
I'm not criticising anyone's favourite methodology (or the Packers, for that matter). I just believe there's a tendency to fall in love with processes, action items, forms, reports, control charts, and theories. Big freakin' deal. Find what works for you, for your organisation, and then do it.
Project management is about getting the work done. Project management is about getting from here, at project launch, to way down there at project closure. Project management is about getting to results.
Using the PMI Model
What approach do I use in project management? I subscribe to the Project Management Institute's (PMI) Project Management Body of Knowledge (PMBOK). It's the approach I've laid out in the previous articles in this series. The collection of these five process groups is also known as IPECC: initiating, planning, executing, controlling, and closing. Here's a recap of each process group:
Initiating. A project is found feasible, a project manager is selected, and the project charter is created.
Planning. Well, gee, I wonder what folks do in this process group? Yeah, they plan how the project should go. Planning is an iterative process group that allows project managers and the project team to revisit as needed.
Executing. You've planned the work, now your project team completes the work. You execute the project plan, not the project team.
Controlling. You aren't going to let your project team run helter-skelter, are you? You've got to control the work to ensure that's it done according to plan.
Closing. The project work is complete, so you and the customer have to verify the deliverables and then close out the project finances, team reports, and lessons learned.
All projects, regardless of their model, move from initiating to closing.
Now think about this: You'll find these five process groups in any of the project management approaches that are alive in the world today. Or, heck, even the approaches that aren't alive anymore. Can't you see the Egyptians going through IPECC for their pyramids? Do you think they actually called each group by the terms we've assigned to them today? Probably not, but I bet they performed some of the same actions that we do as project managers. Well, maybe not the same actions, if they actually used slave labour, they had incentives to offer their project team members that we can't use: work or die.
And what about IPECC in the World's Fair example from Devil in the White City? As I read the book, I could actually see the project pass through IPECC.
Here's an aside: You could argue that the 1893 World's Fair wasn't a project, but really a programme, a collection of projects working together for a common cause. The fair had massive projects: buildings, landscaping, exhibits, transportation, and more. Each project within the programme went through its own IPECC. Each project was independent, but all projects depended on each other to guarantee the success of the fair.
Back to Business: Professional Certifications
So what made me fall in love with PMI's project management approach? I like to think that I'm a logical guy. I also like to think I'm not balding, have a great sense of humour, and can cook a mean steak, but that's beside the point. To me, PMI's approach is the most logical, most forgiving approach to project management. It was also the way I learned project management, so it was easier to accept their approach and see how it can adapt to any project management model.
PMI offers the Project Management Professional certification. If you've been around the IT world for the past 10 years, you've experienced, or been blasted by, the flood of certifications that will allegedly help you earn more, prove your worth, verify your knowledge, and add letters behind your name.
Certification has become big business. Search this site. Search the web. Browse through your local bookstore. There's even a magazine devoted to certification. I'm sure I don't need to tell you any more about certifications in general, but let me tell you specifically about the PMP. First of all, it's not the Pimp certification. I get this one all the time:
THEM: 'Ha-ha, Joe. You're a certified Pimp. Ha-ha.'
ME: 'Yeah, pretty funny.'
THEM: 'Ha-ha, Joe. You're a certified Pimp. Get it? PMP? PiMP? Where's your purple suit and gold teeth?'
ME: 'Yeah, pretty funny. How's your mother?'
You'll have that conversation too after you've heard this 'ha-ha' for the billionth time.
Not everyone can take the exam. To earn your PMP certification, you must first qualify for the exam. You have to prove education and hours of experience, and pass a 200-question exam. After the exam, you maintain your certification by earning Professional Development Units (PDUs) through continuing education and PMI participation.
Once you submit your application, there's a chance that PMI will audit your experience and education qualifications. This means that you'll have to provide contact info for supervisors of your projects, proof of stated education, and your shoe size.
PMP Candidates have to qualify for the PMP Examination.
See how this certification is different from the ones from Microsoft, CompTIA, and others? It's more than just your check clearing the bank. There's a weeding process.
Exam qualifications. The exam requires candidates to document specific project management experience, such as leading and directing project activities.
Experience documentation. You have to provide supervisor contact info on the exam application for all project experience.
Audits and review. All applications pass through a review process. And if you're one of the lucky ones to get audited, you'll get an instant notification that your application is being audited. Oh, the joy.
Passing score. Right now, the passing score for the PMP exam is 61%. There is a total of 200 questions, but 25 of the questions don't count toward your passing score. These 25 questions are peppered throughout the exam to test their validity for potential use in future exams.
Three strikes. If you don't pass the PMP exam within three attempts, you must wait a year before retrying. That's right. Part of the PMP exam is that candidates have three chances to pass the exam and then, well, a years wait.
Certifications and the Real World
Until this article, I ignored all certifications, project management approaches, and formalities with how projects move from start to finish.
Why? I don't believe, and I bet you don't either, that just because you have a certification you're a better project manager. I don't subscribe to the theory that a certified project manager is better than an experienced project manager. Both certified and non-certified project managers have only one thing to prove: Can they get the job done?
Who cares if Joe Schmoe has an MBA, PMP, and other alphabet soup behind his name, if he can't deliver on his promises? Not me. I'd rather work with a project manager who's practical, down to earth, accessible, logical, and can deliver, than with any PMP out there.
Having said that, I'll go back to why I like the PMP certification: It assigns accountability. If there's a PMP out there who blows as a project manager, it's not because he doesn't know the mechanics of what a project manager should do. A PMP is only as good as the projects he delivers. And there's no exam that tests the quality, the completeness of a project deliverable.
Or is there?
I know of only one exam that tests the quality and completeness of a project manager: the acceptance and satisfaction of the project customer.
And what about the ability of management to compare a project's anticipated costs against the actual costs within a project? The ability to benchmark actual schedules with what was promised? The same with promises in quality, communication, risk assessment, procurement, and the project management framework as a whole?
You want a real exam? An exam that really proves worth? It's there. The real project management exam is in the results of every project you deliver.
---
Joseph Phillips is the author of five books on project management and is a PMI Project Management Professional, a CompTIA certified Project Professional, and a Certified Technical Trainer. For more information about project management training, please visit Instructing.com