Recommended Reads | By Patrick Bird | Read time minutes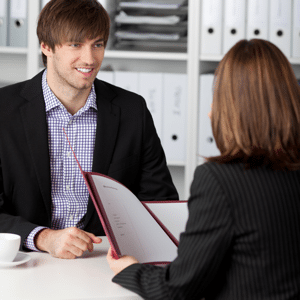 Patrick Bird outlines how you can make a good first impression in meetings with prospective clients.
Communicating effectively and making a message memorable can be a challenge, especially in face-to-face situations. Whether it's with a client or prospect, the pressure of delivering information in the right tone and style requires careful planning.
It's important to make a connection with the people you are meeting to ensure you put your ideas across effectively. Considering how a message will be received by individuals is a fundamental part of a communication strategy.
You can create a good first impression during the initial introductions with a firm, meaningful handshake and direct eye contact, but what about the moments beforehand? What does your body language say to potential clients as you walk into the room?
You have a few seconds to make a first impression, and that impression tends to stick. As you enter a room, be aware of the initial impact you are going to make. It's very important to appear confident or assertive when you need to portray belief in the information you are about to present. A well-prepared pitch is crucial, and when supported by confident delivery shows the client that you are an expert in your field.
This isn't a one-way street though. The rapport you build within a meeting or presentation can be the deciding factor for a client or prospective client. Welcome questions and demonstrate your enthusiasm to know and understand their business. Your openness to gathering information, as well as sharing advice and background knowledge should be apparent well before you begin a pitch or present.
The question process should not simply be a checklist of the notes you arrived with, but as the discussion develops, additional questions should be added that go into more detail, allowing the client to cover the finer points.
We're often scared to ask those 'feeling' questions, for example, How do you feel about the budget constraints you are under at the moment?
When it comes to more sensitive issues, empathy and sympathy must be separated. Have empathy when you're talking about areas that are proving difficult for the business. Place yourself in their shoes and understand the challenges. Avoid taking a sympathetic approach which could appear patronising or as if you are taking sides.
During the meeting, use case studies to demonstrate where you and your organisation have been effective. Make sure these examples are relevant so the client can relate them to their own situation and see the benefits of working with you. Build a story around the example to leave a positive, lasting impression.
There is an awful lot you should be cramming into what could be a short initial meeting. There may well not be time to cover everything, but use it as an opportunity to build a lasting relationship - send additional relevant information out and discuss a convenient time to cover any outstanding points.
Whether they are large or small, firms need to communicate effectively to be competitive. Effective communication starts with equipping individuals with the right tools to do the job.
---
Patrick is passionate that in a very competitive and changing business environment excellent technical skills must be complimented by excellent leadership, personal and communication skills to ensure improved performance and satisfaction of the individual and the organisation. He shares this passion by speaking and presenting at conferences and events around these topics.
Following a successful corporate career and over 5 years as an executive coach, Patrick Bird established InterActive Performance Management in 2009. The aim is to provide medium to large organisations with coaching and mentoring in the areas of communications, leadership, team building and strategy.