Project Portfolio Management | By Curt Finch | Read time minutes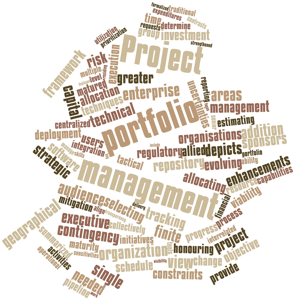 According to a recent article in a leading technology magazine, the demand for Project and Portfolio Management (PPM) solutions is rising in response to the weakened economy. Many businesses are choosing to implement PPM solutions in order to "identify which IT projects are mission critical and to help them execute those projects as efficiently as possible." [1] These customers have also found that PPM solutions offered as software-as-a-service (SaaS) are both more affordable and easier to deploy than traditional ones.
One of the problems many businesses face when choosing a PPM solution is wading through all of the functionality of complex solutions. It can be difficult to understand what functionality a business needs, as well as how to strike the right balance without paying for things that are not needed. When it comes to project portfolio management, most companies have two basic needs: to understand costs and profitability on a per-person, per-project basis, and to know who is going to work on which projects for the next few months. This means that resource allocation and project status, cost and time tracking should be at the top of any PPM shopper's list.
Project portfolio management solutions are critical to organisations that manage many projects and people. Choosing the right solution, however, can be challenging, but there are some key criteria that businesses should focus on during the selection process.
1. How Much Does It Cost?
This is one of the first questions that any buyer asks. What is the cost of the solution? Do I have the budget for it? Extremely large organisations might not worry so much about the cost of a PPM solution, but for companies in the mid-market, a high total cost of ownership can be a deal-breaker. For this reason, it is important to compare vendor prices and offerings when looking at solutions. Larger PPM vendors have high entry costs and it may take a considerable amount of time to see a return on investment of such costly solutions. What many organisations do not realise is that there are also strong vendors emerging in the market with competitive pricing on project portfolio management solutions. It is worth a company's time to do its homework on all competitors in the marketplace before making a final decision.
2. How Long Will It Take to Implement?
Often, organisations looking to purchase a PPM solution do not realise that they might spend one to two years waiting for it to be fully implemented. This means that the financial investment you are making right now will probably not bring in an ROI for a very long time. Savvy buyers must press vendors for real answers on what the implementation timeframe will be. It is also a good idea to ask to speak with other clients about their implementation experiences to ensure that the vendor delivers what is promised during the sales process.
3. How Much of a Learning Curve Can I Expect?
In addition to implementation, results can also be delayed by an excessive learning curve for you and your team. If a solution is simply too complicated for your organisation's needs, you will need to weigh this against the benefit of the complex functionality you are receiving. As I will discuss later, when it comes to PPM solutions, it is best to focus on what you really need rather than trying to have it all. If your new solution will require a seemingly endless training process for you and your staff, what will that do to your crucial projects? Some vendors offer implementation and training as part of their solution. This is a benefit that could potentially save your company time and money, and should be inquired about during the selection process.
4. How Much Functionality Are We Really Getting?
Functionality is another area where asking for customer references is key. A PPM vendor can promise you all kinds of fancy functionality, but when it comes down to it, is 100% of that functionality really going to be rolled out and used within your organisation? A conversation with a few of the vendor's clients should be able to answer this question for you. You shouldn't be paying 100% of the price for a solution and only getting 50-80% of the functionality.
5. Are These Vendors Really Experts in Project Portfolio Management?
Most vendors will claim that they are industry experts, but how can you know for sure? Ask yourself this: Is your vendor claiming that their solution does it all? Common sense tells us that those who do it all don't often do it well. Rather, those who specialise in a few core competencies are in a much better position to excel. When you hear a vendor tell you that they can do it all, isolate the functionality you need most (e.g. project time tracking, resource management, etc.) and ask them specific questions on these areas.
In addition, many vendors will send IT staff to implement their software solution. This is good from a technical standpoint, but as project managers, do you really feel that an IT person with no experience in project management can implement and configure the solution to meet your specific needs? It is important to ask vendors about the staff who will be providing professional services, and try to select the vendor that has experts in both technology and project management on the team.
6. Is the Solution Hosted as Software-as-a-Service?
In the previously mentioned technology article, a programme director for IDC's application lifecycle management research predicts that the demand for hosted PPM solutions will continue to rise. There are many reasons for this. First, SaaS solutions have a lower cost of entry and lower risk than locally installed solutions. Not only that, but SaaS solutions put very little burden on your organisation's already overworked IT staff. In addition, if you select the right vendor, you can rest assured that your data is more secure than it might be in your own hands. SaaS vendors must provide a secure data environment, or they're out of a job. Data must be backed up religiously, and security is the top priority. Customers can rest assured their data security is probably better with a hosted solution, not worse.
In conclusion, when looking for a project and portfolio management solution, buyers must ask the tough questions and carefully weigh their choices in order to ensure that they get the solution that works best for their company. Unfortunately, many businesses are often attracted by flashy demos and lofty promises that are impossible to deliver. By knowing what to ask, you can minimise the risk of implementing what some unhappy PPM customers have referred to as "a million dollar timesheet."
---
[1]CIO, December 04, 2008 - Recession Drives Demand for Hosted Project Management and Portfolio Management
---
Curt Finch is the CEO of Journyx journyx.com, a provider of Web-based software located in Austin, Texas, that tracks time and project accounting solutions to guide customers to per-person, per-project profitability. Journyx has thousands of customers worldwide and is the first and only company to establish Per Person/Per Project Profitability (P5), a proprietary process that enables customers to gather and analyse information to discover profit opportunities. In 1997, Curt created the world's first Internet-based timesheet application - the foundation for the current Journyx product offering. Curt is an avid speaker and author, and recently published "All Your Money Won't Another Minute Buy: Valuing Time as a Business Resource." Curt authors a project management blog at Journyx Blog and you can follow him on Twitter at www.twitter.com/clf99