Project Portfolio Management | By George F. Huhn | Read time minutes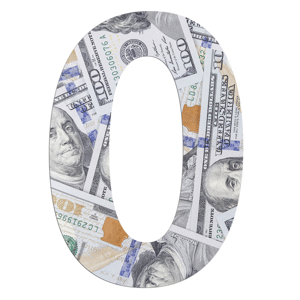 If you don't know the values and costs of not executing your projects then you're probably not maximising the value of your project portfolio and you may be working on the wrong projects.
In literally a textbook-changing article in the INFORMS journal Decision Analysis (December 2009) entitled "On the Choice of Baselines in Multi-attribute Portfolio Analysis: A Cautionary Note", Robert T. Clemen and James E. Smith from the Fuqua School of Business at Duke University show that not accounting for the baseline values of not executing individual projects can dramatically skew portfolio value and cost. They illustrated this using Multi-Criteria Decision Analysis (MCDA) methodology, but their general conclusions and recommendations apply to any quantitative portfolio analysis.
When project portfolio managers meet to decide which projects that their businesses are going to execute and which they are going to reject, they often have a summary business case for each project that includes the business value and attributes. Business attributes can include selection criteria such as Net Present Value (NPV), Return on Investment (ROI), costs, resource requirements and risks.
Thus, when the managers select a project to execute, the value and associated costs of the project are added to the total portfolio value and costs, respectively. When they reject a project, usually the identical "if-executed" values and costs are subtracted from the total portfolio because there is no separate evaluation of the value and costs of not executing the project. Therefore, the value of a rejected project is essentially set to zero by default and the total portfolio loses value.
When they reject a project in this way, any intrinsic positive or negative values and costs derived from not executing the project are not factored into the final portfolio. And when these values and costs are not factored in, the total portfolio value and cost can be dramatically over or under estimated.
There are many ways a project can add or subtract value from a portfolio. Even projects that have negative individual ROIs can add value, such as a project that adds revenue to a product line because of its strategic fit. Analogously, there are many ways that not executing a project can add or subtract value from a portfolio. For example, positive value can come from increased revenue streams if the rejected project would have cannibalised revenues from other products; and negative value can come from a loss of revenue from a product line that could have been enhanced by the executing the project. Costs that can be incurred from not executing a project might include costs associated with contract terminations, closing facilities and reassigning resources.
So, perhaps counter-intuitively, you can see that rejecting (not executing) a particular project may actually add more real value to a project portfolio than selecting another project!
How can you ensure that you're capturing the value and costs of not executing a project?
For each potential project in your portfolio, you could create an associated "Not" project that includes the overall value for not executing the project calculated using the identical attribute categories (rewards, costs, risk, etc.). Then, before optimising the portfolio against constraints, you could set up a mandatory dependency between these two projects such that either the actual project is selected or its corresponding "Not" project is selected. In this way, either the value and costs of executing the project OR the value and costs of not executing the project are included in the portfolio totals.
Of course, if the value and costs of not executing a project are truly "0" and do not impact the total portfolio value and costs, then you don't need to create an associated "Not" project.
In our project portfolio management tool Optsee, you can perform rigorous project portfolio optimisations against multiple constraints (such as limited money and resources) while maintaining four different types of project dependency relationships, including an "Or" relationship. When you select the "Or" dependency relationship between two projects, either one project or the other (but not both) are included in the optimised portfolio. This way it is easy to set-up and accurately analyse the real value and costs of your portfolios under different constraint combinations because you're factoring-in the values and attributes of both selected and rejected projects.
---
If you're a business professional interested in learning more about how project portfolio management applications can maximise the value of your project portfolio, be sure to visit Optsee4.0 to learn about Optsee, an integrated project portfolio management tool for prioritising and optimising corporate project portfolios. By automatically analysing your project portfolio in thousands of scenarios and then optimising against multiple constraints such as limited funding and resources, Optsee quickly shows you your most-likely return from an optimal portfolio.
Data Machines also offer a free spreadsheet/worksheet for easily calculating the Return on Investment (ROI) for any project portfolio management tool.