Project Planning | By Brad Egeland | Read time minutes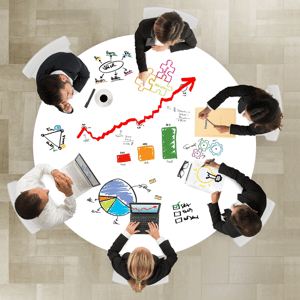 Maybe you're a "visual" person who needs to see in order to understand. Maybe you're an auditory person who prefers to hear in order to best comprehend. Wherever you fall, I think we can all agree that a visual planning system for project management is a great way to go.
This is especially true if it's meeting our project scheduling, project status reporting and resource management needs in a way that can make our lives easier. Even more so if it can help us disseminate information throughout the organisation (ours and the customers') to those who need it.
Yes, for project management, visual usually wins out. Charts, graphs, reports, percentages and presentation slides abound everywhere you look and every meeting you attend. And status reporting and meetings…well, there are resource usage reports that highlight areas where your resources are overextended.
Gantt charts are designed to provide a visual representation of how your entire project is laid out. Each task is represented. All dependencies, work completed, dates and resources assigned are usually integrated into the Gantt chart visual view.
And don't forget about budget forecasting and analysis. For the projects I've managed over the years, I've created numerous ways to display this information visually for my team, my executive management and my customer.
Sometimes what I have suffices. Sometimes the customer and various stakeholders ask for something new - which sends me off searching for or creating the best reporting scenario for the project at hand.
Bottom line - information is critical. The delivery of this information is critical to end user comprehension and adoption.
Finding a project management software package that provides the best visual tool in a simple, easy-to-use and up to date format is important to the busy project manager.
You don't have to look far to find such tools on the market - but the savvy PM, PMO director or CTO must do some investigative work to determine what's best for the organisation's needs.
When scouring through the masses of project management software tools for one that will get you the best mix of visual planning and short learning curve, be on the lookout for a few crucial elements…
Meaningful and Configurable Dashboard Reporting
Many project management tools offer dashboards - even highly configurable dashboards. But if you cannot make them tell you what you want without a big learning curve or a high degree of customisation, then it's best to move on to the next project management software tool - especially if you're a busy project manager.
The best visual project-planning tools offer an easy-to-read, easy-to-customise project status dashboard for each project and, preferably, across a group of projects. This produces meaningful information for both the individual project teams and customers. It also gives the company's executive management the big picture view - which is exactly what they want to see.
Easy to Use, Quick to Learn
An easy-to-use visual project-planning tool should give the project manager some drag-and-drop features - such as creating dependencies, moving and creating tasks, adding resources and inserting percent completes. These are the weekly rituals that project managers must go through to prepare status info for weekly customer calls and meetings. Making this as visual and easy as possible is important for the PM who is making final updates at midnight before the next day's status call. That's me!
Smart Filters to Create Instant Visuals of Status
Easy-to-access-and-create filters should be available to the user to create meaningful filtered quick reports of project status. Key filters to use include resource usage conflicts, soon-to-start tasks, tasks in progress, tasks overdue, tasks assigned by resource and tasks recently completed. Anything that allows the PM an easy way to create meaningful views of important project information is a huge plus.
Summary
Where there used to be only two or three solutions (when I started out in project management…and yes, I realise I'm dating myself now), there are now literally hundreds of project management software tools available. Checking most of these out and finding out what is best for you or for your organisation is no easy task.
In the end, you need a full-featured product that's both very visual in terms of planning, management and reporting AND easy to use. Why? So you and your team can be up and running - and collaborating - as quickly as possible. Try the free trials, and request a demo to see if a particular solution is going to meet your needs.
What do you look for in visual project-planning tools? Did we miss something you consider crucial?