Project Management Office | By Abid Mustafa | Read time minutes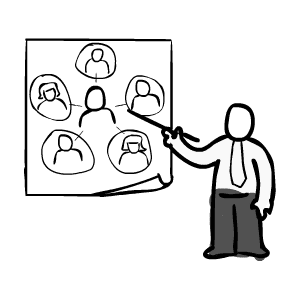 Companies spend a lot of time and effort establishing PMOs and devising project methodologies that enable them to deliver their strategic initiatives. Often, such initiatives span the length and breadth of the organisation, are complex in nature and are extremely cross-functional in their implementation. It is common for such projects to run across three domains namely: Commercial, Technology and Support. This poses a great challenge for executives in appointing the right type of project manager to take the helm of responsibility and delivery. This naturally leads to a typical discussion about how such projects should be organised. Figure 1.0 illustrates a common project organisational chart that is used to deliver end-to-end (E2E) initiatives.

Executives quickly realise (some after repeated failure) that existing project managers that reside in line functions, are limited in their ability and knowledge to deliver initiatives that run E2E. At this juncture, various models are discussed and debated. These include:
Line Project Managers to Run E2E Initiatives
The problem associated with line project managers delivering E2E initiatives is that they possess deep knowledge about their function, but run into difficulties when they work in other domains. Additionally, such project managers always suffer from a personality/credibility image and employees in other functions do not take them seriously. For instance commercial project managers maybe apt at ensuring that functions such as products, marketing, sales, legal, etc. are provided with not only the requisite support, but also fall in line when required. However, such project managers struggle when dealing with IT. They do not understand the technical parlance, possess the skills to challenge IT staff, or are even familiar with the working of the internal IT departments with its myriad of vendors. Conversely, the same is applicable to the IT project manager. Hence project delivery becomes fragmented and the overall project experience for the executive team suffers.
Depending on the nature of the project, a common remedy employed is to appoint two project managers, where one takes the lead and the other one supports. In some companies the supporting project manager is also referred to as the 'subject matter expert' or SME. This is shown in Figure 1.1.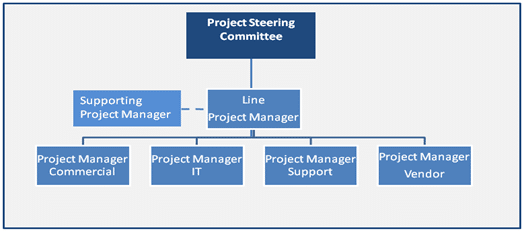 However, this type of arrangement is fraught with leadership issues and project teams can easily become fractured by taking sides with one of the two project managers, thereby jeopardising the delivery times of the project and can also lead to further stoppages.
Other companies may seek to bolster the abilities of their line project managers by providing them with extra project management training as well as domain specific skills. This process can be painstakingly slow and depends upon the maturity of the organisation, its budgets and time.
Centralised Pool of Project Managers to Deliver E2E Initiatives
Another way of delivering E2E initiatives is to establish and nurture a 'small pool' of dedicated E2E project managers who are well conversant with all the domains of the corporate business and have excellent project management skills. The centralised E2E pool of project managers should reside within the Executive Programme Management Office (EPMO) and have the support of the executive team. Figure 1.2 depicts the organisational structure of the project hierarchy.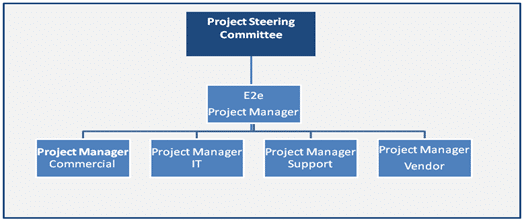 The main advantage of this approach is the 'perceived neutrality' E2E project manager brings within the organisation as he/she is viewed not to be aligned with a particular department. This together with the support of the executive team becomes indispensable in building cross-functional project teams. Nevertheless, it can be argued that such an approach can take accountability away from the line functions and any failure will be quickly apportioned to the E2E project manager. Concerns of such nature can be overcome by ensuring that accountabilities and responsibilities are clearly laid out at the inception of the project. Executives should be held accountable for the realisation of the benefits, where as the E2E project manager is accountable for the delivery of outcomes and capabilities. The project steering committee should oversee that the accountability is correctly assigned and intervene if any deviation is noticed.
In summary, the appointment of an E2E project manager is essential to ensure that the E2E project is delivered successfully. It is up to executives to decide, which approach to they should employ when faced with the challenges of E2E projects.
---
Abid Mustafa is a seasoned professional with 18 years' experience in the IT and Telecommunications industry, specialising in enhancing corporate performance through the establishment and operation of executive PMOs and delivering tangible benefits through the management of complex transformation programmes and projects. Currently he is working as a director of corporate programmes for a leading telecoms operator in the MENA region.