Communications Management | By Simon Buehring | Read time minutes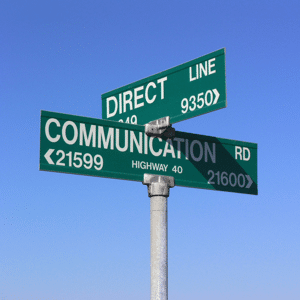 Since I didn't hear otherwise, I ASSUMED all was going well.
Second on Rick Klemm's list of things most commonly overheard on a failing software project, this remark is characteristic of project managers who are not in frequent and efficient communication with their staff.
Communication is Key to Successful Project Management
If project staff do not know what their tasks are, or how to accomplish them, then the entire project will grind to a halt. If you do not know what the project staff are (not) doing then you will be unable to monitor project progress. And if you are uncertain of what the customer expects of you, then the project will not even get off the ground.
Maintaining open, regular and accurate channels of communication with all levels of project staff and stakeholders is vital to ensuring the smooth flow of instructions from customer to factory floor and sufficient warning of risks and changes to enable early assessment and preparation.
The Information That You Need to Give
As project manager, it is your job to keep a number of people well-informed. It is essential that your project staff know what is expected of them; what they have to do, when they have to do it, and what budget and time constraints and quality specification they are working towards.
It is also your job to keep the Project Board informed of project progress. The Project Board usually includes the Executive (person ultimately responsible for the project), and representatives from the User and the Supplier.
It is important that the project manager updates the Project Board regularly on the status of the project, so that any changes or risks can be assessed, project progress can be measured against the original Business Case and a project that is not fulfilling its purpose or matching the value of its investment can be called to a halt.
The Information That You Need to Receive
In order to keep the relevant people informed, you must have regular and complete access to all information about the project; customer needs, objectives, plan, constraints, changes/risks and progress.
PRINCE2, the government-standard project management methodology, suggests that a system of 'management products' (documents used to make management more efficient) is set-up.
For example, a Project Quality Plan relies on information about quality expectations provided by the Customer. The Quality Log is a record of quality checks performed by project staff. Both documents are necessary for effective management of product quality.
The PRINCE2 method also recommends that project managers establish regular dates for Checkpoint Reports (detailing the progress of individual teams and team members) and Highlight Reports (documents prepared by the project manager, for the Project Board, describing overall project progress).
With disciplined adherence to a system of regular and focused communication, you will avoid the misunderstandings and delays that so frequently lead to project failure and ensure that all your project staff and stakeholders are secure in their knowledge of what has to be done, and who is doing it.
---
Simon Buehring is a project manager, consultant and trainer. He works for KnowledgeTrain which offers training in project management and PRINCE2 training in the UK and overseas. Simon has extensive experience within the IT industry in the UK and Asia. He can be contacted via the KnowledgeTrain PRINCE2 project management training website.