Communications Management | By Brad Egeland | Read time minutes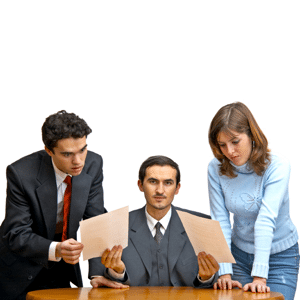 Nobody wants to be the one who has to break bad news to anyone. Have you ever had to deliver tough news to a customer on a project? We always want to be seen in a favourable light by the customer - telling them something very negative can definitely taint their view of us as project managers. We may only be the messenger and may have played no part in creating the negative situation that we are reporting on, but it's still not a fun situation to be in no matter what.
I've had to deliver tough news on projects several times, but none as tough as the time I had to go tell my client - who I was working on fifteen separate projects for - that my organisation's CEO was acting fraudulently and had taken his own life as several federal agencies were closing in on him. And I had to convince them that no one other than his wife and the CFO knew about the fraudulent activity. That was the truth. I did it, but it wasn't easy, and it was embarrassing.
How do we prepare to deliver bad news to the project customer? What steps do you go through to prepare yourself if you must deliver really tough news to a client?
For me, the process is basically these four steps…
1. Gather Info
If you must present terrible news to the project client, then at least be accurate and prepared. If it's budget information, know everything you can about where the budget stands, how much has been charged in the last week, month, six months (i.e. trends - so you can discuss what the future likely holds for the project), and how it got to be so out of shape in the first place. No customer wants you to sit down and deliver bad news if you seem like you don't have the whole story. That makes you sound like you're withholding information - like you can't be trusted. And nothing will create a bad relationship faster than a situation of mistrust. For me with the life-taking CEO it involved a sit down with my VP and a quick scouring of the news reports (yes, it was all over the news). Know everything you can…period.
2. Devise Options to Present
Options, options, options. Try to never go into a client situation to deliver bad news without providing some sort of options. You know how they say, 'if you're not part of the solution; then you're part of the problem'. Be that solution guy, not the problem guy. I offered options to my project client in the fraudulent CEO situation - even as the company was heading into bankruptcy and receivership. The result was my project client offered me a position with their organisation. I didn't take it, but it told me that the way I handled it was probably the best way I could have possibly handled it. I considered the job offer to be very positive feedback. Devise some options to present so you can work with your project customer to hopefully fix the situation, resurrect the project, and wade successfully through whatever issues have presented themselves.
That's the first two steps of my four step process of how to deliver tough news to your project client when you run into a potentially showstopper situation on one of your projects. It's a very difficult situation to be in, but the project manager is the point person and by taking on this role and doing it well, you can potentially put yourself and your team in a very favourable light with the project customer and thus gain their respect and co-operation in guiding the project through whatever issues are besetting it.